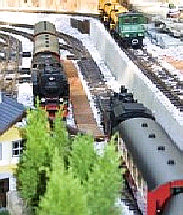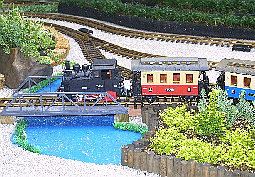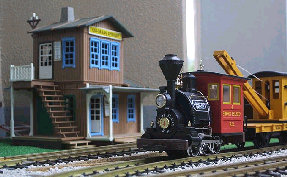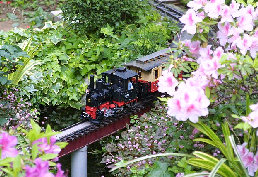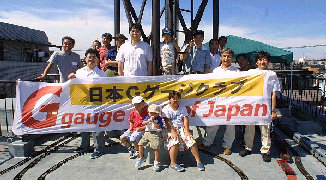 Japanese G gauge club is the G gauge special railroad model club that is thought of in Japan formed in
May, 2002 if only. It is G gauge of the minority, but spreads as a garden railroad still more in the country
in Europe and America. In late years the lover increases by degrees in Japan, and as a result it is
"Japanese G gauge club" that was born.
spontaneously.A reduced scale is 1/22.5, and track width is 45mm.A narrow gauge railroad of gauge of a
track1m is a model.
With force and being strongly built to be able to enjoy enough even if I let a vehicle grows with 10 ‡p x15 ‡p
and run in the natural inside greatly, it is a large-sized railroad model in a popularity sudden rise as a garden
railroad with the fashion of gardening. Japanese is increasing with the unprecedented railroad model which
the garden railroad that gardening was united with this model railroad has a family equal, and everybody can
enjoy steadily. If university does it a kana design and a train of clean color, I give dynamism and a color to a
few gardens of movement, and the world happy really opens.However, I am disappointed, but it is the new
railroad model which is not known very much in Japan.It is we "Japan G gauge club" that support a G gauge
fan with a few such several.
Welcome to Japan G gauge club.
A railroad model is individual alone, but it is a hobby to conclude.
However, a member of a G gauge club is connected by example alone in the rail which I cannot see
when I let you run to all over Japan.
If pleasure of G gauge gathers together, I become more happy.
If a questionable point contributes wisdom together, I accord, and it will be to be settled.
Do not you let you run with a G gauge with person having a G gauge,, us whom there is as needing
it including a G gauge from now on pleasantly already?
Member several are 76 currently in January , 2008.
The 77st people is you.
There is neither enrollment fee nor a fee nor the rules of a society to a club.
An application of enrollment is an email.
Japanese G gauge club representative Yoshiaki Miyawaki
"Enjoy" it is a motto of a club.
Copyright (C) 2000 G gauge club of Japan. All rights reserved.1.1.2000
Japanese only
Japanese only
Japanese only

Name/
Yoshiaki Miyawaki

Address/
1032 ootakamimachi
Takamatsu-shi
Kagawa 7618074
JAPAN

TEL/ 090-2896-1909
FAX/ 81-87-866-0509